Dave Gauder Angel Of Strength Feats
Dave Gauder Angel Of Strength hold 26 Strength Records in the Guiness Book Of Records and is well know for his pulling and lifting events that he has taken part in. These are just a few of them.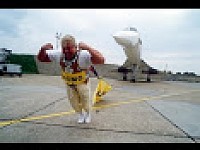 STRONGMAN DRAGS CONCORDE ACROSS TARMAC
The supersonic aircraft Concorde made one of its shortest and slowest journeys over the weekend, when a professional strongman propelled it 40 feet across the tarmac at Heathrow Airport in a charity feat. David Gauder, 32, taking a foothold in a ladder-like contraption flat on the ground, gripped a rope attached to the 91-ton aircraft and hauled mightly until he got the plane to roll see more...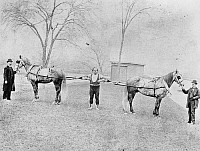 "Hold your horses!" - versions of a famous stunt from 1891
Canadian Strongman Louis Cyr set many records in the late 19th/early 20th Century.
One of his stunts was to restrain two horses pulling in opposite directions. Not a great deal of photographs exist of Cyr performing, but here is one that is credited to have been taken in 1891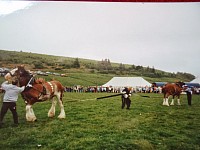 Some stunts are never repeated, sometimes it is because they are just too hard, other times it is because the logistics of organising & carrying them out safely is deemed to be not worth the risk.
Dave Gauder repeated Cyr's stunt in the 20th Century with 2 Clydesdale Horses in Scotland.
Dave Gauder has also performed variations of this stunt under scrutiny of Guinness World Records with motorbikes & airplanes.
Most people remember Big Dave for pulling large vehicles (or planes) - this video has some footage of some of the things he's done:
Britain's strongest man 2009 Big Dave celebrates his 999th pull by moving a Police van, Ambulance and fire truck all together.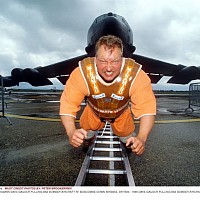 Pulling a B52 - 15th June 1990
Not many people could move a 10 tonne bus by muscle power alone. Big Dave has pulled over a thousand of them. He's also pulled some much bigger things too. On 15th June 1990 Dave pulled a B52 bomber at Boscombe Down Airbase.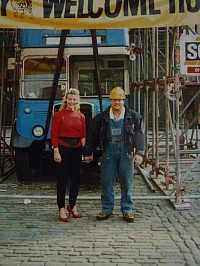 Lifting a Bus
It was called by Guinness World Records "The Greatest Lift in History." On 6th November 1988 Dave Gauder & Chris Oskys lifted an 8 tonne double decker bus off it's wheels outside of the London Transport Museum in Covent Garden. Chris Oskys was the 1986 British Bodybuliding Champion whilst Dave Gauder had already pulled Concorde a year earlier & held four world records.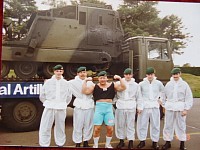 Edinburgh Military Tattoo 1989
Of the many spectacles & attractions Dave Gauder had the hardest physical job to do - he pulled an Royal Artillery Rapier Missile system on the back of a transporter (42 tonnes) every day for a month & twice on Saturdays.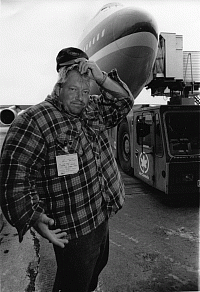 STRONGMAN PULLS JUMBO JET
To mark the arrival of the new Boeing 747-400s in 1992, the Gladiator – British strongman Dave Gauder – pulls a 200-ton Air Canada 747-400 jet a distance of 7.5 centimetres at London's Heathrow Airport. The event raises thousands of pounds for the British Red Cross.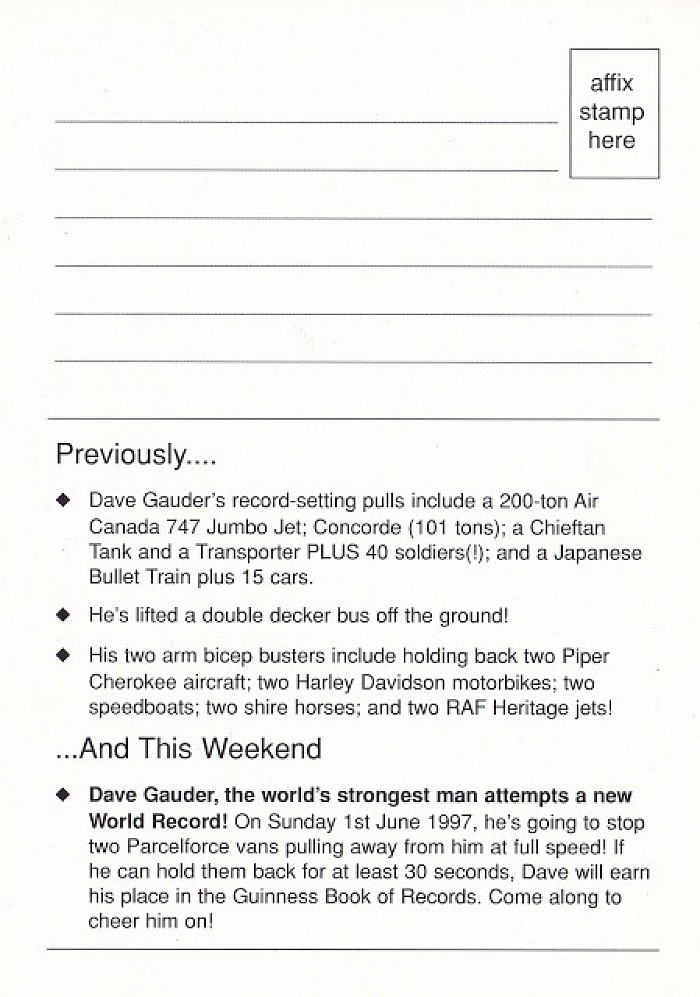 Dave continued his good relations with the military, symbollically retiring a Vulcan Bomber in July of 1990.
The following year, 1991, Dave pulled a Tornado to raise money for the Gulf Appeal.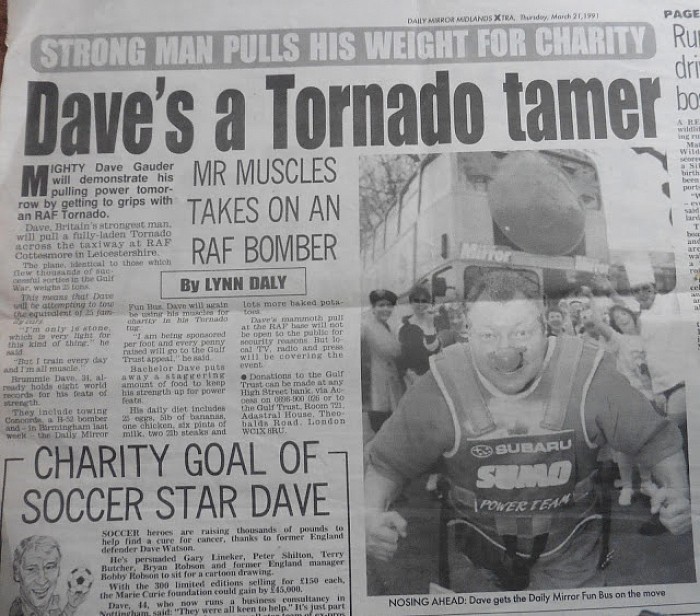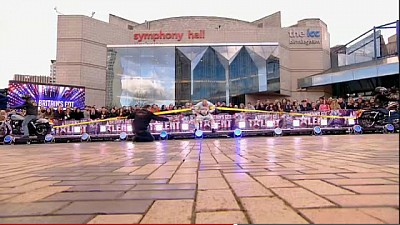 Britain's Got Talent 2012 saw its first outside audition at the weekend, with strong man 'Big Dave'. "Today I am going to be putting man against machines," he said. "I was the first person to pull Concorde, I pulled a jet, I stopped two jet airplanes from taking off and I lifted a limo completely off the ground. I train nearly every day." Explaining to the judges his latest stunt, Big Dave said: "I'm going to prevent these two Harley-Davidsons from pulling away." with a YES from David, Simon and Amanda Holden, Big Dave is through to the callbacks.